Roberto Robinson, Deputy Director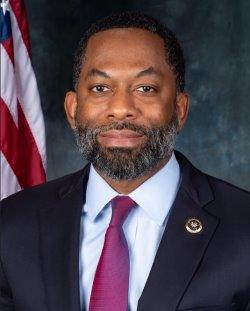 Roberto I. Robinson is the Deputy Director of the United States Marshals Service (USMS). As the second in command for the nation's oldest law enforcement agency, Mr. Robinson assists the Director in the formulation, development, and implementation of all policies and procedures for a force of more than 5,000 operational and administrative employees spanning 94 districts, 218 sub-offices and four foreign field offices. Mr. Robinson also assists the Director in the operation and administration of federal judicial security (including oversight of more than 5,000 contract court security officers), fugitive apprehension, witness security, asset forfeiture, and prisoner operations.
Prior to this appointment, Mr. Robinson managed the entire operational backbone of the USMS' law enforcement mission as the Associate Director for Operations (ADO). Before serving as the ADO, Mr. Robinson previously held the position of Associate Director for Administration (ADA), was appointed by the U.S. Attorney General to serve as the Acting U.S. Marshal in the Northern District of Illinois in 2015, and also led the Agency's Training Division as Assistant Director, where he focused on advancements in supervisory training. He is also well known for his long-term leadership roles within the Tactical Operations Division, having been promoted steadily due to his extensive operational and field experience, and his remarkable reputation for successfully leading change under adverse circumstances.
Mr. Robinson's commitment to government excellence began in 1997 as a U.S. Marshals Service Centralized Career Experience Program student while attending the John Jay College of Criminal Justice in New York City. Upon graduating Magna Cum Laude with a Bachelor of Arts Degree in Criminal Justice from John Jay, Mr. Robinson attended the USMS training academy and became a Deputy U.S. Marshal in 1998. He successfully served as a Deputy U.S. Marshal in the Southern District of New York, and rose through the ranks to become a Senior Inspector in the Witness Security Division, Supervisory Deputy U.S. Marshal in the Southern District of Florida, Assistant Chief Deputy U.S. Marshal in the Eastern District of Michigan, and Chief Deputy U.S. Marshal in the Northern District of Ohio. Mr. Robinson is a member of several organizations through which he volunteers on various community service initiatives.