Dallas L. Carlson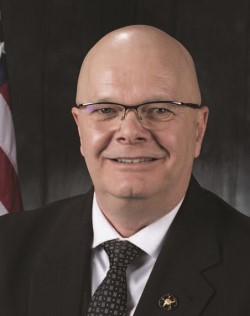 On October 17, 2018, United States President J. Donald Trump appointed Dallas Carlson as the US Marshal for the District of North Dakota.
Marshal Carlson was sworn into office by the Honorable Daniel L. Hovland, Chief Judge for the District of North Dakota. The District of North Dakota has four courthouses spread across a geographical area of 70,762 miles.
Carlson began his law enforcement career in 1977 with the Ramsey County (ND) Sheriff's Office. Carlson also worked for the Mandan (ND) and Devils Lake (ND) Police Departments. Carlson served as a Patrol Sergeant, Administrative Lieutenant, Deputy Chief, and Acting Chief with the Devils Lake Police Department. In 1984 Carlson was presented with the "Governors Heritage Award".
In September, 1989 Carlson began his career with the North Dakota Bureau of Criminal Investigation (BCI). While serving as a Special Agent Carlson was assigned to the Dickinson, Williston, and Minot offices of Bureau of Criminal Investigation working both general and narcotic investigations. In July 2000, Carlson was promoted to Chief Agent and in January 2011 was appointed Bureau of Criminal Investigation Director by the North Dakota Attorney General. In 2008, Marshal Carlson was awarded the North Dakota Peace Officers Association "Lone Eagle Award" and in 2017 was awarded the North Dakota Bureau of Criminal Investigation "Distinguished Service Award". Marshal Carlson attended the 198th session of the FBI National Academy.