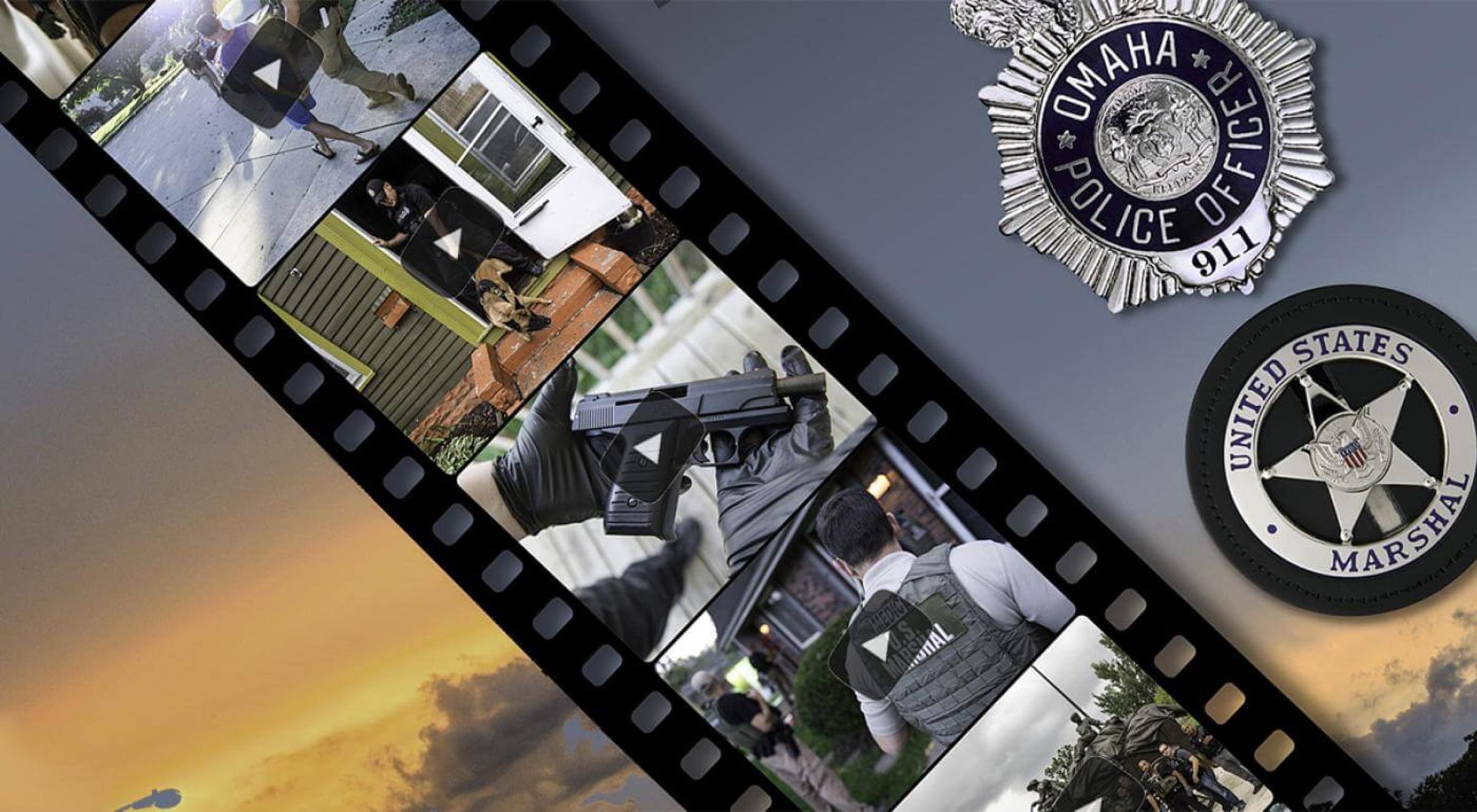 Video Gallery
Officer Safety Training - Human Performance

U.S. Marshals Service deputies conducted an Officer Safety Training-Human Performance (OST-HP) course to state and local law enforcement officers at the headquarters office of Gulf Coast Regional Fugitive Task Force in Vestavia Hills, AL on August 29, 2022. The USMS OST-HP training is designed to improve law enforcement officers' overall performance and decision-making during stressful encounters, ultimately leading to a decrease in the number of use-of-force situations and increasing the probability for successful non-violent outcomes. 

Operation We Will Find You

The United States Marshals Service, along with the National Center for Missing and Exploited Children (NCMEC) and state and local agencies in 16 geographical locations across the U.S., led a 10-week national operation to find endangered missing children.

Operation We Will Find You is the first nationwide missing child operation focused on geographical areas with high clusters of critically missing children.

Operation North Star II

U.S. Marshals Service alongside partner federal agencies and local law enforcement conduct enforcement operations focusing on state and local felony cases of homicide, sexual assault, robbery, and assault during Operation North Star (ONS) phase two. 

Women's Baker to Vegas

Each year, the United States Marshals Service Women's Baker to Vegas Team competes in the B2V Challenge Cup Relay, a 24-hour race that stretches 120-miles from Baker, California to Las Vegas, Nevada. The team, made up of 20 female deputy U.S. marshals, a group of alternate runners, a support staff and volunteers, trains throughout the year to prepare for the historical event that pushes the limits of endurance, mental stamina, athleticism, and willpower. During the race, each runner also wears the names of deputy U.S. marshals who died in the line of duty.

The Best People for the Job: US Marshals Dog Handler

The U.S. Marshals K-9 program is a top-tier defense measure for our federal courthouses, sweeping high profile trials for explosives and firearms. They also have the ability to find guns and ammo during fugitive investigations and are some of our best ambassadors to the public. These jobs take a special kind of dog, more loyal to scent than they are to good behavior. It also takes a special kind of deputy to "handle" them. SDUSM Triana Luce says her high voice makes her prefect for the position since dogs respond to her pitch.

Flying Justice: U.S. Marshals Prisoner Transportation

The U.S. Marshals' Justice Prisoner and Alien Transportation System (JPATS) manages the coordination, scheduling and secure handling of prisoners in federal custody, transporting them to detention facilities, courts and correctional institutions via a network of aircraft, buses, vans and cars. Justice Prisoner and Alien Transportation System (JPATS) is the largest transporter of prisoners in the United States, supporting the federal judiciary, U.S. Marshals district offices and the Federal Bureau of Prisons.

Mentoring Marshals

Assistant Chief Deputy U.S. Marshal Rachel Gibson said she never imagined as a little girl that she would grow up to be in law enforcement. Now she sees it as her duty to pass on her knowledge to a new generation of deputies so they, too, can be the difference.

U.S. Marshals Service Wall of Honor 2022

Every year, the U.S. Marshals Service pays tribute to those within its ranks who gave the ultimate sacrifice. The names of the agency's fallen heroes are added to the USMS Wall of Honor, which is enshrined at U.S. Marshals Service Headquarters in Arlington, Virginia. Family members, friends and employees come together annually to remember personnel who died in the line of duty and reflect on the selfless service exemplified by all the courageous men and women whose names are permanently preserved on the Wall.

The National Wellness Survey

In 2018, a group of first responders and psychologists created a survey to ask first responders in Virginia about their psychological health.

5,000 first responders across the state spoke up about topics like stress, trauma, and suicide. The results were used to help first responders: passing a PTSD presumption bill, gaining funding for supportive resources like Peer Support or psychologists, and educating agency leaders and the public.

This year, we're asking first responders all across the U.S. to speak about their psychological health… including you.

U.S. Marshals National Training Academy

United States Marshals Service National Training Academy is housed at the Federal Law Enforcement Training Center (FLETC), in Glynco, GA. Glynco is located near Brunswick, Georgia, midway between Savannah, Georgia and Jacksonville, Florida. The Assistant Director and Deputy Assistant Director of Training Division discuss the academy and the kind of recruit that is most successful.

Gang Enforcement Program

The U.S. Marshals have been combating criminal gangs for most of their history, but recently they have changed the way they go about it. Focusing on the violent fugitives and working with their federal, state, and local partners they have been able to make a noticeable dent in gang structure and activity for prolonged periods. Chief of The Gang Enforcement Program, Eric Mayo discusses the past, present, and future of the program.

U.S. Marshals Service OMSU COVID-19 Vaccines for the Navajo Nation

Teams of medics with the United States Marshals Service's Operational Medical Support Unit were in Gallup, New Mexico, Feb. 21 to March 21 to help administer COVID-19 vaccines to the local Native American population. The medics worked alongside medical personnel from the Gallup Indian Medical Center and helped deliver nearly 19,000 vaccines on a first-come-first-serve basis.

A Deputation Story 2021

In January 2021, like in most presidential inauguration years, the United States Marshal's Service deputized thousands of law enforcement officers and Army National Guardsmen for sponsoring agencies, like the Secret Service and the Washington DC Metro Police Department. Chief Deputy Lamont Ruffin walks us through this mission unique to the US Marshals.

U.S. Marshals "Who We Are"

The U.S. Marshals Service was the first federal law enforcement agency in the United States. Federal marshals have served the country since 1789, often in unseen but critical ways. The Marshals Service occupies a uniquely central position in the federal justice system. We are the enforcement arm of the federal courts, involved in virtually every federal law enforcement initiative. Presidentially appointed U.S. marshals – one for each federal judicial district – direct the activities of 94 districts. Approximately 3,571 deputy U.S.